Posted in
Uncategorized
on November 30th, 2006
I present to you, with great pride, the Colon Blower: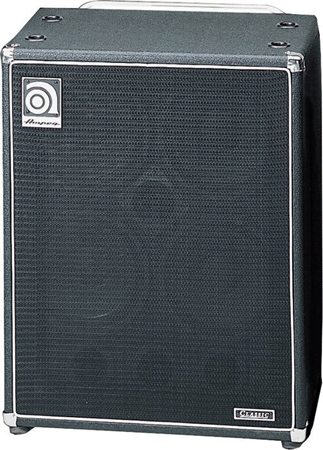 The Ampeg SVT-410 HLF. 500 watts. Can go as low as 28Hz. 110 fucking pounds (ouch, my back!).
I'm in love.
I'd been playing through a couple of Carvin cabinets for…i dunno, the past 6 years, and while they'd done a decent job, i'd become unhappy with the tone, had already blown two speakers (the 18″ i replaced, the tweeter i never bothered with), and overall wanted to step up to something better- especially with more shows and time in the recording studio coming up.
With some assistance from Paige, i picked it up from the store, Gelb Music, last Friday, and took it directly to the studio. Of course i hooked it up and tried it out…just to make sure it worked properly and everything. Ended up playing for about an hour. Man is that thing loud. And balanced perfectly. Whereas before, i had to really tweak my EQ settings on both my preamp and head to get any sort of good sound, now i barely have to do any adjusting at all. Amazing.
Other stuff…Zept and i had a nice, low key Dead Turkey Day- cooked for ourselves, had a very nice dinner, watched movies, etc. Later in the long weekend, we caught Casino Royale. I was prepared to be disappointed, but it was rather damn good. Been doing a little writing, some other art project thingies for the band, and plowing through work.